About KSM Mobility Chairs
Steve & Julia Jenkins and close family friend, Paul Fleming, want to provide a real beach going chair for everyone to use free.
Steve says, "Fun should be free to everyone. Paul and I, together with our families, value our community and are motivated by a desire to contribute to the broader good, to empower and involve each individual in realising their dreams. In the case of the chairs, it is about everybody being able to access the water."
The design came about after many trials and prototypes with many different people with varying needs, the common factor being that all were challenged in accessing the beach. The inspiration came from wanting to help a friend of theirs who just wanted to get "into" the surf. Paul says, "My friend had cerebral palsy and he just wanted to get into that surf and feel those waves washing over him, rather than look at it from the carpark. He was a larger type of person and the other chairs available at the time were trialled but just not suitable."
The Concept
Designed in conjunction with people with disabilities, experienced carers and engineers, the chair had to meet four essential criteria: ease of handling by a single carer, stability in the water, comfort and a light weight yet robust design.
It is essentially an all-terrain amphibious wheelchair designed for people with different abilities who may need assistance in accessing the water safely and reliably. A floating wheelchair for the beach, river, lake or swimming pool for anyone with reduced mobility. The KSM differs from others in that it is amphibious, allowing the user to move easily over a variety of ground surfaces, "especially soft sand" and then float on water without any modification or change to the chair.
Built for Australian conditions, the KSM has been developed to be used by any person, adult or child. Other beach chairs were found to be difficult for carers to push through and over the sand. In contrast, the KSM is easily "pulled" over the sand and over other terrains including dirt, rocks, gravel, branches.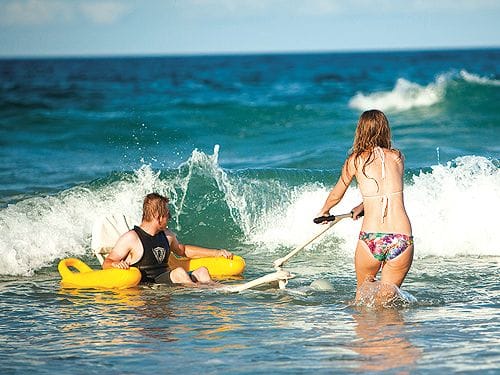 Even young children can pull the chair, due to its lightweight and sturdy frame that evenly distributes weight over the four small balloon tyres. The low pressure Wheeleez tyres act as shock absorbers ensuring a smooth and comfortable ride.
The occupant is seated on an upholstered seat with cushions manufactured in "Docril" acrylic canvas which is rot, mould, salt water resistant and UV stable. Docril is a ventilated material that allows water and sand to wash through. Two removable armrests are affixed to the chair that serve as the main flotation devices. The armrests are adjustable and can be raised and/or removed to allow the passenger smooth and unencumbered access to seating, both in and out. The armrests and their positioning ensure optimum flotation and stability in the water. The padded handlebar can be held by the carer or occupant to steer.
With a person with a disability being the occupant, it is intended that use of the KSM be steered by a responsible carer, on the beach and on the water. The KSM is capable of carrying a maximum weight of 130kg and additional hand-held points have been affixed to the frame to assist manoeuvring the KSM in the water. As a result, a person who has previously had difficulty accessing the water safely, can now enjoy floating and bathing in the ocean or pool, while a carer observes basic safety including use of a Personal Flotation Device if required.
It is recommended the KSM be used in calm conditions in supervised swimming areas.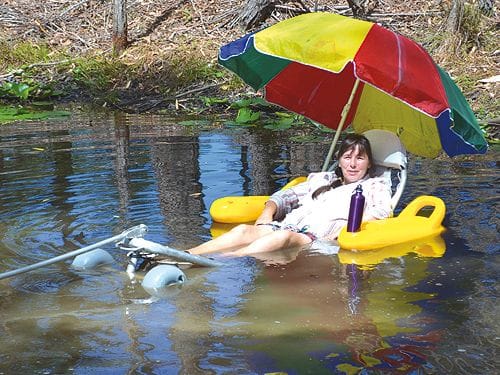 Mobility Chair Development
Developed and built in Port Macquarie on the Mid North Coast, this provided the perfect setting and testing ground with so much variety in beach conditions, ensuring the KSM Beach Mobility Chair could support people in a variety of settings.
With the framework built of lightweight aluminium composite and fittings of marine grade stainless steel, the chair is easily lifted into storage, transported and manoeuvred by a single carer.
Further development in the frame came about as a result of feedback and input from Woody and Marie of Grafton who travelled to Port Macquarie to use the chair on a number of occasions.
Due to its unique pulling handle design, it provides the user a real feeling of independence, and unlike other beach chairs that require a number of carers to support in the water, the KSM offers a genuine floating experience in the ocean, river or pool.
Frame & Fittings: As a result of exhaustive testing of various materials the KSM Beach Mobility Chair has been manufactured using aluminium circular hollow units with a base platform from 40x3.0CHS and the chair and back rest from 32x3.0CHS.
The segments have been connected by a full circumference 4mm continuous fillet weld to create a fully sealed frame which provides assistance in creating the floatation characteristics.
The KSM Beach Mobility Chair is certified as structurally sound in accordance with the requirements of AS1665 Welding of Aluminium Structures. Structural and fabrication certification has been carried out by David R. Johnson C.P.E. No. 1116013 of Port Macquarie.
Chair Construction & Materials
The frame of the KSM Beach Mobility Chair durability is backed by a 10 year warranty when used for the purpose it was manufactured.
Fittings are of the highest marine grade stainless steel as provided by SKM Engineering of Port Macquarie.
Powder Coating consists of a dual pack for saltwater use - various colours are available as provided by Hastings Valley Powder Coaters of Port Macquarie - we have chosen "Sandbank" to blend with the colours of the beach.
Upholstery consists of Docril marine grade acrylic canvas and is 'uv' stable, fabricated to manufacturer's recommendations and has a 12 month warranty, as provided by Lamb upholstery of Wauchope.
The WHEELEEZ wheels will get over terrains not accessible to other wheels, have stainless steel ball bearings in a plastic housing and felt sealed to keep sand and grit out and come with a 12 month warranty (please observe the low tyre pressure recommendations).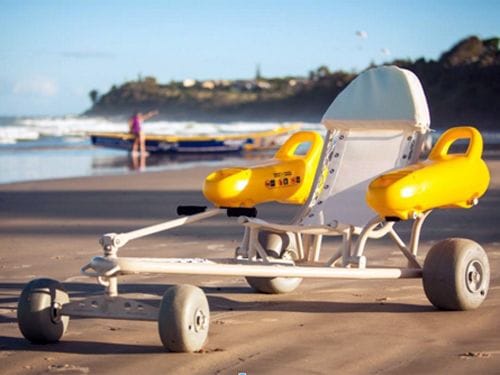 The tyres inflate to an ideal pressure of 2.5 psi. These tyres are very malleable, they flatten soft sand and distribute their load over a wide surface. Other tyres were found to just dig ditches. These tyres also conform to irregular terrain making rolling over rocks, branches, or other obstacles quite easy. Our video clearly shows how the Wheeleez wheels make easy work of rolling over soft sand. Wheeleez is probably the most iconic, balloon tyre. The company is built around international sales of its wheels, used on all manner of beach going conveyances.
The extra width of the chair provides stability both in the water and offers a stable platform to negotiate uneven ground.
The polyurethane material of a Wheeleez tyre is exceptionally tough and almost puncture proof. However, a cigarette lighter may be used to melt the plastic around the hole, smooth it off and the puncture is repaired.
Best for soft sand crossings. The balloon Wheeleez tyres roll along behind you with near zero resistance.
User Experience
The KSM Beach Mobility Chair has received a number of testimonies that recommend the chair as the best beach chair for all terrain use. The robust design has proven to withstand the tough workouts handed out by all involved, including the Disabled Surfer's Association.
One such testimony from Marie McCullagh, a T-4 paraplegic:
"Finally there is a chair that can get you in the water, submerge you and get you wet! I have no doubt that this is the best chair in Australia for people with problems walking to the beach and getting into the water."